**Disclaimer-While I have my MLS, I am not currently a librarian. I'm a PhD student in Rhetoric and I'm a graduate research assistant in the TWU library, where I've worked for 5 years. I also happen to be taking a library school class as an elective. These posts are part of a weekly reading response. I am not speaking as a library expert. I'm speaking as a student and observer.**
Open and equal education; it's all about the connections, y'all…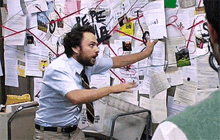 This week's reading's centered around the importance of providing inclusive programs and services for all library patrons. As usual, there were a few articles that were particularly important to me and they both focused on the use of Connected Learning. Much like Open Access, Connected Learning is a way to provide equitable educational options to those who wouldn't otherwise have access. My zeroing in on this subject shouldn't come as a surprise to you. I've spoken incessantly and relentlessly about my belief in the importance of Open Access and the part that I (and many others) believe it will play in the future of education and research.
According to an article by Benlamri and Klett (2015), the trends that are being seen in Open Access and Connected Learning fall into one of three areas: the shift from physical, classroom-based education to online systems; the effect of Open Access technology on not only the learning aspect directly but the spillover as other skills are learned in order to engage with the Open Access technology; and a change in the teacher-student dynamic as the teacher becomes more of a "facilitator" and the student takes a more active role in choosing their Open Access educational resources. These trends, taken together, or separately, demonstrate the globalization that is taking place in education and knowledge acquisition.
When taken together, these two idea–Open Access and Connected Learning–can broaden the minds and worlds of students in immeasurable ways. I mean, we'd like to naively believe that schools are a meritocracy where the best students will rise to the top, no matter the odds and succeed in all of life because that's what the movie montages about the brilliant kids at the underfunded schools tells us will happen, but that's just not the case. Michelle Pfeiffer and her cool leather jacket aren't coming to save anyone.
So what then? How do we connect the students who need the resources to the resources that are available? Obviously, since these posts are ALWAYS about libraries, the answer is the library. They go to the library.
In "Using Technology to Support Equity and Inclusion in Youth Library Programming: Current Practices and Future Opportunities," Subramaniam and colleagues point out that:
Libraries represent an out-of-school context ripe for engaging youth in connected learning experiences and promoting equitable learning…Librarians are particularly well positioned to serve as "media mentors" who help youth and their families navigate today's sometimes overwhelming digital media landscape, identify high-quality information, and craft engaging learning experiences… (317)

Subramaniam, M., Scaff, L., Kawas, S., Hoffman, K. M., & Davis, K. (2018). Using Technology to Support Equity and Inclusion in Youth Library Programming: Current Practices and Future Opportunities. The Library Quarterly, 88(4), 315–331. https://doi.org/10.1086/699267
The digital divide is real, y'all, and it affects more people than you think it does. Public schools in many places are severely underfunded and children may not have access to the internet at home. They might have cell phones but cell phones can't allow them to do the things that they need to do to succeed in school. And too, they need to be able to connect with other students who understand the difficulties and the obstacles that they face.
The involvement of the public library and connected learning programs can help to change this. Librarians can guide students and their parents, who may exist on the other side of the digital divide. All schools are not equal and not all schools have the same access to good technology but public libraries may be able to help bridge that gap. In some libraries it may be a matter of employing a different kind of librarian; one who is trained in education and child development. With the way that many schools have begun reducing or entirely eliminating library staff, this might be a good path for public libraries to take.
This could be especially important in light of the fact that libraries are more and more becoming places where communities can gather in a safe and open space. Creating a program where students can connect virtually with other students in similar communities in other parts of the country, and even the world, helps them to know that they are not alone. In "Connected Learning in the Public Library: An Evaluative Framework for Developing Virtual Learning Spaces for Youth," Valdivia and Subramaniam discuss the ways in which:
Informal virtual spaces are particularly relevant to public libraries, as recent studies show that younger patrons are more likely than those aged thirty or older to use the library as "hang out" space, using library computers or their own technology and the library Internet connections to watch or listen to media and visit social networking sites

Valdivia, C., & Subramaniam, M. (2014). Connected Learning in the Public Library: An Evaluative Framework for Developing Virtual Learning Spaces for Youth. Public Library Quarterly, 33(2), 163–185. https://doi.org/10.1080/01616846.2014.910727
Let's face it, they're going to be online and on social media especially, a good portion of the time. I mean, I'm 45 and I spend my life online. Why wouldn't they? But what if we could turn that into a learning experience that's fun and inclusive and enriching and provides access to materials and ideas that they wouldn't normally be able to access? If we could do that, we could help them understand that they deserve a good education just as much as anyone else and that their circumstances don't define their worth or their ability to become whatever it is they want to be.
This Week's Readings:
Required:
Dadlani, P., & Todd, R. J. (2015). Information Technology and School Libraries: A Social Justice Perspective. Library Trends, 64(2), 329–359. https://doi.org/10.1353/lib.2015.0041
Kowalsky, M., & Woodruff, J. (2017). Chapter 8 (Accessible Resources and Technologies). In Creating inclusive library environments: A planning guide for serving patrons with disabilities (pp. 147–172). essay, ALA Editions, an imprint of the American Library Association. http://search.ebscohost.com/login.aspx?direct=true&db=nlebk&AN=1469013&site=ehost-live
Moorefield-Lang, H. (2019). Lessons learned: Intentional implementation of second makerspaces. Reference Services Review, 47(1), 37–47. https://doi.org/10.1108/RSR-07-2018-0058
Subramaniam, M., Scaff, L., Kawas, S., Hoffman, K. M., & Davis, K. (2018). Using Technology to Support Equity and Inclusion in Youth Library Programming: Current Practices and Future Opportunities. The Library Quarterly, 88(4), 315–331. https://doi.org/10.1086/699267
Optional:
Mathson, S., & Hancks, J. (2007). Privacy Please? A Comparison Between Self-Checkout and Book Checkout Desk Circulation Rates for LGBT and Other Books. Journal of Access Services, 4(3–4), 27–37. https://doi.org/10.1300/J204v04n03_02
Valdivia, C., & Subramaniam, M. (2014). Connected Learning in the Public Library: An Evaluative Framework for Developing Virtual Learning Spaces for Youth. Public Library Quarterly, 33(2), 163–185. https://doi.org/10.1080/01616846.2014.910727
Additional:
Benlamri, R., & Klett, F. (2015). Emerging trends for open access learning. Research and Practice in Technology Enhanced Learning, 10(1). https://doi.org/10.1186/s41039-015-0010-4